SAINTS WILL BE AN EXAMPLE OF VIRTUE TO ALL BAPTIZED PEOPLE WHO WILL LOOK UP TO
AND SAINTS WILL BE INTERCESSORS BESIDE GOD…
Our name is old…for many centuries, but our first name also has a STORY…
The passing down of a first name is always an astonishment for a genealogist!
The attachment to a Patron Saint or to a first name « well suited » and recalling some glorious ancestors has always guided the choice of our ancestors as for us today! And they had yet a very important choice between all the Saints in heaven…Jacques DUPÂQUIER, an eminent demographer and a friend of mine has studied the question and I will not do again his work to tell you the story of our ancestors first names… Nevertheless I think it would seem wise to explain you how our ancestors chose first names and I will consult his book (Gé-MAGAZINE Spécial n° 1 CES PAYSANS NOS ANCÊTRES Juin 1984)..
A first name, a godfather, a father, a chapel dedicated to, were all the different possibilities to take a choice of a first name…But when our ancestor didn't like his first name he changed for another one.
But the study of first names and the choice of them have an interest for anthropologists and family historians and at least the study is interesting in the choice, in order to understand the family organization…
· SOME QUESTIONS ARE :
- LOCAL SAINTS [Which ones were the more honored?)
- PARISH PATRONS
- DID THE ROMAN REFORMATION WIN TO ELIMINATE PAGAN FIRST NAMES?
- WHEN DO WE FIND COMPOSITE FIRST NAMES?
- AND WHEN DO WE FIND DOUBLE AND TRIPLE FIRST NAMES?
- WHAT ABOUT THE CHOICE OF GODFATHERS AND GODMOTHERS?
- DID THEY ALWAYS GIVE THEIR OWN FIRST NAME TO THEIR GODCHILD OR DID THEY GIVE THE ONE OF SOMEBODY THEY LOVED VERY MUCH?
And we wonder…in front of the parish registers or of the archives with so many first names and middle names we draw up statistics.
At the beginning, I mean during 9th and 10th centuries (before documents are unusual and disappointing) 85 to 90% of our ancestors had German first names as:
- Aimericus - Rotbertus or Uge – exceptional are Christian first names: Johannes - Pétrus - Stéphanus and in the feminine…
But it twill change during the following centuries, and in the 13th century 57% of first names are Christian and it will go on during the following centuries.
TWO FIRST NAMES: Pierre and Jean (Peter and John) are the most chosen, as they are the only to be taken for half the male children, Pierre was the first then Jean took its place during the 15th century.
For female children: Pétronille, Jeanne and Marie!
So we can say that from the 14th century, Christianization of first names is established almost all of the population, men and women, the nobility, burghers and small farmers.
For example in our family ARNOLD, four of those first names except Pétronille were taken for 60% of our ARNOLDS of the 17th century!!!
During the last decades of the Ancien Regime (before 1792) we can find new first names as:
Adélaïde - Sophie - Julie - Alexandre - Auguste - César -….the choice of revolutionary first names could make a break, but it has been limited from 1793 till 1795 and only in a few towns which reveals it was just a hitch…
THAT IS THE GREAT STORY OF THE FIRST NAMES according to Jacques DUPAQUIER…
· NOW I WANT TO TELL YOU ABOUT THE STRANGEST FIRST NAMES OF OUR ANCESTORS (a survey I did between 1679 and 1930), then I will tell you about Saints whom names were given to our ancestors…
· You will see in that first names the German origin as explained before as our ancestors lived in an area closed to Germany:
·
FIRST NAMES THE MOST CHOSEN FOR OUR ANCESTORS ARNOLD FROM KRUTH…
(Baptism chronology)
BURGHARD - APPOLINE - CLADINA - EUPHROSIE (or INE) - MATHIS - MEINRAD - WENDELIN - MELCHIOR - WALBURGE - ÉRASME - CONRAD - THADÉE (or THADÉUS) - CHRÉTIEN - CUNIGONDE - ZACHARIE - SÉRAPHIN MORAND - URBAIN - AMBROISE - REINHARD - ACHATIUS (GILLES) - BERTHILDE - ROMAIN(E) - DAGOBERT - ALBINA - MATERNE - ADALBERT - JEAN CHRYSTOME - FRIDOLIN - MARIE-RUFFINE - BIBIANNE - MARIE-TENSTINE - CRESCENCE - HERMANN - SYLVESTRE - GODEFRIED - LAZARE -
ÉMERENCE - PHILOMENE - ROMUALD - ILLIANUS (JULIEN) - CÉSARINNE - PROSPER - EPHREM - ADELPHE - CONSTANCE - ANGÉLIQUE - OSCAR - OTTO - ABEL - JOHAN - LÉANDRE - EVE - GERTRUD(E) - AGATHE - BLAISOTTE (BLAËSAT) - PÉLAGIE -….among the most eccentrics !….
They are the less common but the most chosen by our ARNOLD ancestors during centuries.
Can we imagine a little baby with such a first name!
It is a reason why they very often had a nickname, but unhappily some of them died when very young!
They were extremely shrewd in order to make a difference between them, because very often in a same family, a same first name was chosen- THEY ADD TO THEIR FIRST NAME THEIR OCCUPATION AND THEIR NICKNAME- as hereafter the examples (given by one of our cousin ARNOLD during the Cousinade 1983, and I thank her so much):
Excuse me if I have made mistakes in the spelling…
SOME ARNOLDS WILL BECOME:
ARNOLD Joseph SILVÉRYSEPP
ARNOLD Leon SEPP MATHIS LÉO
SES SOEURSSEPPS MATHIS MAÏDLA
ARNOLD Auguste HRÔUNHOLZ GÜSTI
ARNOLD Eugène MACHINISTO
ARNOLD Alfred. SCHLOSSER FREDDY
ARNOLD Séverin GRIET SÉVÉRI
ARNOLD Auguste (2nd). BASIL GÜSTI
ARNOLD Augustin (Mayor of KRUTH during a long time) GÖRG HANS AUGUSTE
The list is very long and we can refer to the article of EUGENE ARNOLD "LA FAMILLE ARNOLD de KRUTH" its origin its arms)
It was a good idea to add the occupation as several ARNOLDS could recognize easily each other.
· WHO WERE SAINT ARNOULD… and SAINT AMAND….. ?
SAINT ARNOULD: He was born on 582 in LAY SAINT CHRISTOPHE with name of NANCY, descendant from counts of SOISSONS by his father and by his mother from a Schwaben family. From his wedding, he will have two sons, and one of them will be the ancestors of Carolingian. His wife took refuge in a Convent and he ended his life as a hermit in the GORGES DU LOUP near EPINAL.
He came on the Episcopal throne in 612 in METZ and was the tutor of DAGOBERT and the friend of King CLOTAIRE. He took again his life of hermit in 627 in REMIREMONT and died in 640.
l
SAINT ARNOULD patron of Brewers
Messins (people from Metz) asked for his mortal remains on July 641: "It's boiling, our poor pilgrims who stopped in CHAMPIGNEULLES for a moment had just a pitcher of barley beer to quench their thirst… NORTHON prayed "Blessed SAINT ARNOULD, come and quench our thirst, your powerful intercession will provide for what we need »! And the miracle of beer was: pitchers of very cool barley beer grew and multiplied…
Is it real? Let the legend and pay tribute to the Patron Saint of Brewers as we have his NAME.
SAINT AMAND: A first name just chosen for one ancestor ARNOLD (the one of Miss Lucienne LAPOINTEour cousin from BRUNSTATT died today). Who was this Saint?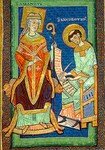 Saint Amand
SAINT AMAND died on 679 and was a traveling bishop, then of TONGRES-MAESTRICHT (around 646-647). He evangelized FLANDERS, FRIESLAND and HAINAUT. He founded several monasteries as the one of ELMONE and the one of MONT-BLANDIN.
And some other first names…as' Aloyse - Stève - Eudes - Gérard – which come from AMAND and if we believe the legend they knew how to support each other!...
CONCLUSION: Hereafter the first names the most chosen by our ARNOLD ancestors and you will see they are in statistics of the beginning of this article:
HANS - (Jean) - JACOB (Jacques) - PETER (Pierre) – and their entire composite…
THIÉBAUD (THIBOLD) - BARTHEL (BARTHÉLÉMY) - GASPARD - JOSEPH - ANTOINE - GEORGES for men...
MARIE (Maria) – and derived from.. Then ANNE - BARBE (Barbara) - CATHERINE – for women… and JEANNE with the entire composite …
Madeleine ARNOLD TETARD (all rights reserved).