APPEAL TO OUR UNKNOWN AND ALLIED ARNOLD COUSINS
Your name is the same as our cousins' names: ARNOLD. Our ancestor was Claude ARNOLD born in 1623 (descendant of Demanche ARNOULX from Gerbéviller, old Dukedom of Lorraine). Around 1640 he married Marie SEUFFERLIN born in 1625 (descendant of Barthélémy SEUFFERLIN and Blaisotte WALDNER of KRUTH). Their descendants settled in Kruth in our beautiful VALLEY of the THUR. The allied families living in the valley were numerous and we can enumerate many names such as LUTTENBACHER, MURA, DIERSTEIN, LUTTRINGER, MENNI, MUNSCH, BURGUNDER, HALLER, KIENTZY, WEGRICH, BLUNTZER….
Certainly we are cousins and we would be very happy if you could join us at our 6th COUSINADE of the family ARNOLD and allied families of the VALLEY of SAINT AMARIN on August the 15th of 2008.
This celebration will mark the 25th anniversary of our first Cousinade which took place in 1983. Other Cousinades were held in 1985, 1990, 2002, and 2005. We received an award in 2004, the 4th prize of the Ministry of Family given by the Minister in Paris.
This family gathering will begin Friday morning, August 15, in the playground of the school in KRUTH. There you will see an exhibition of all our genealogical trees, meet your cousins and exchange information. All the while a folk music group will entertain. Our American cousins from St. Louis, Missouri, and also our cousins from Netherlands and Switzerland will be with us. Many information booths will be set up, including those by CDHF - MEDINA COUNTY (cultural exchanges between France/USA), and glassmakers of WILDENSTEIN. With the permission of the town council, lunch will be in a town hall of the valley (ODEREN or WILLER SUR THUR, depending on how large our group is). Friday will close with a dance hosted by a musician of the valley.
The next day, Saturday the 16th, we will go to GERBEVILLER, the native land of Claude ARNOLD. We will have lunch in a Lorrain restaurant then visit the castle and the Chapel where our ancestor was baptized in the 17th century.
You may register for the first day, the second day or for both days by writing to the Association to request entry forms at this address: krismad@wanadoo.fr
Closing date for registration is the 1st of August 2008.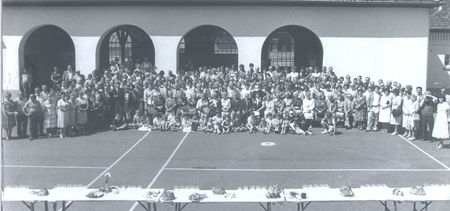 Our first COUSINADE on August the 14th of 1983 in Kruth
340 cousins gathered