Several families from Alsace-Lorraine are also called ARNOLD and are not of our family. We have not any common ancestor.
In the valley of SAINT AMARIN several families called ARNOLD are living since the 16th century in WILLER- SUR-THUR with branches in GEISHOUSE and in GOLDBACH-ALTENBACH and they have a common ancestor, but our family arrived in the HIGH VALLEY OF THE THUR (KRUTH) during the middle of the 17th century (1659) and the name which was ARNOULX in LORRAINE became in ALSACE ARNOLDT then ARNOLD.
This name was a first name and so, was given to different persons even they had no common ancestor.
An other family ARNOLD was living in the Valley of MASEVAUX and many of us among the families ARNOLD from KRUTH, are allied with this family by the way of families MUNSCH et BEHRA.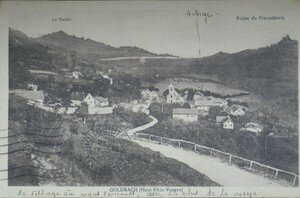 Goldbach (click on the picture to go to the information of the CDHF about family Arnold)
There are also several families ARNOLD who have their roots in Germany, Luxembourg, and Switzerland and so on...
The Helvetic immigration in the principality of Murbach and of Lure after the Thirty Years War (from Roger Delamare) : reveals that several heads of families ARNOLD arrived in Alsace as Michel ARNOLD coming from the canton of BERNE arrondissement of Konolfingen-Munsingen and who settled in Wittenheim after his wedding with Marie HEIDERin on August the 28th of 1697. Many other girls ARNOLD as Catherine coming from the canton of Aargau arrondissement of Zofingen who married in Willer sur Thur with one of her compatriots Jodocus WEYSS coming from Hochdorf canton of Lucerne on September the 13th of 1696 or, Marie ARNOLD coming from Lucerne who married in GUEBWILLER on April the 8th of 1668 with Jean Théobald BÜCKEL. And also François ARNOLD coming from the canton of Thurgau arrondissement of Altishausen married in ROUFFACH in Alsace on January the 31st of 1701 with Gertrude BRACHMONAT.
In ROSBRUCK in Moselle, we also find a family ARNOLD sometimes called also ARNOULD or ARNU according to the pen pusher and which took its roots with Jean Adam ARNOLD a day labourer married with Barbe WEYLAND : they had eleven children all born in EMMERSWEILER, and the name became ARNOULD with Nicolas who was a forest warden married with Augustine DELLION born in Moyeuvre and dead in Rosbruck in1870 then ARNU with Pierre, brother of Nicolas, a cobbler, born in Folkling in 1793 and dead in 1871 in Rosbruck ! Why such a variation, we don't know!
An other family ARNOLD -ARNOULD in FREYMING with Marie who was married with Nicolas TRINCKWELD and an other Nicolas son of Jacques and MARTIN Louise who was a customs officer in Moyeuvre and died in this town in 1813..
We also know a family ARNOLD from MITTELBERGHEIM in the Bas-Rhin whose roots seem to begin with Marc ARNOLD.
In the Regiment of LA MARCK (who was enlisted in 1791 in the National Army under the name of 77ème R.I.) we find many different ARNOLD coming from NASSAU-WIRZBOURG or from DAHN Diocese of SPIRE administration of ATTENSTATT (?) and some coming from WASSELONE in Alsace... In the ROYAL-BAVIERE Regiment we find many ARNOLD coming from DARNSTADT or from FRIBOURG and in the ROYAL HESSE DARMSDATT Regiment several ARNOLD coming from OTTERSCHWYR administration of RASTADT (Bade) and from DAHN (ALTENSTADT near of SPIRE). Jacob Arnold changed for the Regiment of LA MARCK on April the 30th of 1781, then Martin ARNOLD coming from Breidenbrunn near of MINDELHEIM in Bavaria MITTENSWALD?? Near of Tyrol...
We also find a very important family ARNOLD coming from ROSENWILLER and from MUTTERSHOLTZ with many descendants.
ROUFFACH in the Haut-Rhin
The family ARNOLD from ROUFFACH had its roots in the Diocese of CONSTANCE in Germany. They were very important winegrowers in this village during the 18th century but some of them went in the North of France as they were weavers and some others went to Belgium where there are now many descendants. In this branch we have heard a lot of a certain ARNOLD during the Commune of PARIS...
Léon Georges ARNOLD was born in Lille in 1837 and died in Sceaux in 1912. He came from the lower middle class. He became an architect and was appointed as an Assistant Inspector for the redevelopment of PARIS. When PARIS was besieged in 1870, he was in the Garde Nationale and argued in favour of elections by the way of the Comité Central. He was the author of the Affiche Noire (Black Poster). Winner in the Council of the Commune, on April the 16th, by the votes of the 18th arrondissement, he acted as a spokesperson for the Council and was the champion of the Comité Central. The Council of War sentenced him to an imprisonment in deportation on January the 12th of 1872. When he came back he took again his job of architect for the town of PARIS. He had no specific political ideas but he had a practical experience and a great realism. His brother Henri ARNOLD was arrested on May the 23rd and was shot in the playground of the secondary school Rollin. He had refused to take off his uniform of Fedéré (federated) for personal dignity. (Dictionary of la Commune)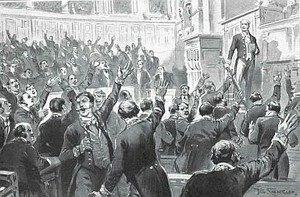 Click on to go in Geneawiki texts on Naturalizations
Declaration of war 1870 in Sénat
An other family ARNOLD was also living in LAUTENBACH-ZELL and many descendants of them are mentioned in the miliciables (militiamen) in 1766: Gangolphe Lumberjack 23 years old and Jean Thiébaud ARNOLD Weaver 21 years old. (CDHF)
This list is not exhaustive and we would be pleased to know other families ARNOLD. So tell us about the families we may have forgotten…
Madeleine Arnold Tétard (all rights reserved).