Planting of the tree of live of family ARNOLD
On January the 23rd of 1784 was lodged a complaint against Gaspard ARNOLD with the fiscal prosecutor of the valley…Gaspard ARNOLD was the son of Thiébaud ARNOLD from Kruth, and had to pay a fine of 6 pounds from Basel in compensation for having « regardless of the law » and according to the forest report of November the 29th of 1783, taken from the forest « Herrschafflliche Grieb Wald » above the Grieb of Kruth, a beech tree of 2 feet 7 inches circumference… (researches A.GANTER registers protocoles ST AMARIN Fonds juridique)
Today, we are going to rehabilitate this poor Gaspard, in planting a tree of life, the life of all our ancestors who made the earth of Kruth, who gave all their strength and their vigour in order that their descendants who are gathered today may plant this tree. Today we are planting an oak tree and we hope that our great grandchildren will see it many years later and will remember it is the tree of life of the family ARNOLD.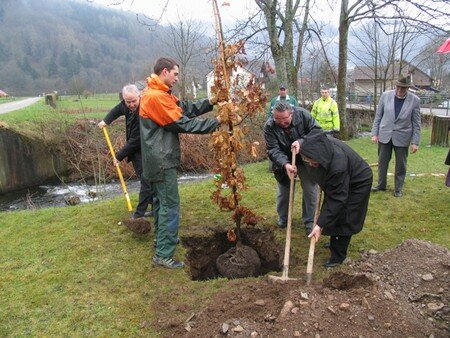 I invite Mayor of Kruth, and our oldest cousin to join me in order to throw the shovelful of earth which makes concrete this plantation.
We wish a long life to the tree of the family ARNOLD from KRUTH and of the allied families of the valley of SAINT AMARIN and of the ARNOLDS living in foreign countries.
Look to the photograph album. [Look at right column at the French version PLANTATION DU CHÊNE ARNOLD 11 avril 2008].
Madeleine Arnold Tétard
In spite of a rainy day this planting was made with a great emotion and I thank all the 24 cousins who came. I see you on next August 15th for our big COUSINADE ARNOLD where many surprises are waiting for you.