The first writings about the village ODEREN, dated from 1253. At that time there was a castle on the MÄEREL.
This castle certainly was the oldest of all the bailiwick. It was one of the seigniorial castles, one of the royal residences that Frank Kings built in Alsace, in several fine places, dominating the valley. De GOLBERY, in his "ANTIQUITES D'ALSACE", tells us about "Moerel" (sic):
"From Wesserling, on the right the eye falls on a hillock which looks like a hump of dromedary which seems to close the valley behind FELLERINGEN".
"This castle, said Mr.E.HANS in his handwritten, was built during the German era".
In 1253 the earls of HORBOURG gave up or sold the castle to the Abbey of MURBACH, and then to the nobility of BOLLWILLER.In 1416, the castle was involved in litigation with armed attack between earls of MONTBELIARD-WURTEMBERG and the Abbey of MURBACH. The feudal building was on the place which dominated the best the high valley.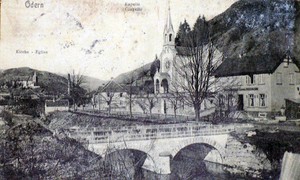 ODEREN sight of the Maërle on the right of the Chapel Maria-Hilf (Notre Dame du Bon Secours)
It was located on the highest peak of Maërel. It was also the nearest from the village and the steepest in front of BOBENRIETH's house (at the time of G.SIFFERLEN ndlr). The castle commanded the villages ODEREN, KRUTH, FELLERING and WESSERLING. It could communicate with the castle of WILDENSTEIN and with the castle of STÖRENBOURG, .It was by the way of the place very similar. (Castle of HUSSEREN-WESSERLING ndlr)
Today and at the time of G. SIFFERLEN, it only remains relics of the castle of ODEREN. The name for the mountain "KASTERLBERG" (peak of the castle) and the field in front of the Maërel "KASTELAKER" (field of the castle) are proofs that there was a castle there.
There was also at the bottom of the Maërel, a pond with carps.
There was also in the other side of ODEREN, a newly built seigniorial house. The last house at the outside of the village ODEREN (at the time of G.Sifferlen ndlr) towards KRUTH, was named "SCHLÖSSEL", little castle. We are thinking that in the past there was a royal residence at this place. The pond with fishes depended on the Castle of MURBACH and the story is recounted in their book in 1550. It was near of the little castle (heim Schlössel)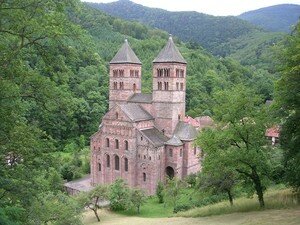 The Abbey of MURBACH possession of the very powerful Prince Abbots
Sources : La vallée de SAINT AMARIN Notes historiques et descriptives par l'Aumônier G. SIFFERLIN Livre IX tome III ODEREN - STRASBOURG 1909 F.X. LE ROUX & C° Libraires-Editeurs. ICONOGRAPHIES : ASS.I.F.ARNOLD all rights reserved.