Family Arnold from Kruth in Haut Rhin (Alsace) was native from a little charming village of Lorraine: Gerbéviller, no far away from Lunéville.
Our first known ancestor, Demanche Arnoulx, lived at the end of the reign of Henri IV, just at a time when Lorraine began a long period of time of misery and mourning. May be he is the son of Caguin Arnoulx. He had a son Claude born on 1623 in Gerbéviller. The entire present lineage considers that Claude Arnoulx is the founder of our family which lives for many centuries in Kruth in 'Haute Alsace'.
Claude Arnoulx was born on 1623 the 31st of May. He left his village Gerbéviller decimated by the Black Death and the war at the age of 10 years old, leaving his father the only one alive of his family. It was a very dangerous period as there was in Lorraine and Alsace a terrible war called 'la Guerre de Trente ans' (the Thirty Years War). This war decimated all the country and the population. We know that from 1632 to 1635 he wandered about the roads. He met and followed a French mercenary and arrived at the age of 12 in Alsace which was also occupied by Swedish, Lorraine and French Troops. It was also as dangerous as in Lorraine. Monks of the Abbey of Munster sheltered him and helped him to regain his strength. As he was very courageous he decided to learn how to become a 'Marcaire' (cowherd and cheese-maker) and he learnt too the dialect of Alsace.
Little by little, the monks put trust in Claude and when he was 20 years old they asked him to be their share-cropper in a big farm belonging to the Abbey and after for a second one.
When he was 22 years old he became Churchwarden for the Catholic Church of Munster, receiving parishioners, rang the bell of the Church for the Mass.
He married in 1643 with the very pretty Marie Seufferlin. They met them over the stubble-fields during a 'Kilbe' (feast in Alsace). Marie had run away from Kruth as Swedish and Lorraine soldiers had decimated her village. Her mother Blaisatte Waldner had been killed and to escape from them she hid in the mountains. She was a 'Tisserande' (a weaver) and after their wedding she worked as a weaver for the Abbey of Munster. But Marie hid a secret: she was the daughter of Barthélémy Seufferlin a very strong 'Maire Seigneurial' (Seigniorial Mayor) of the Valley. She was afraid that her father didn't appreciate she married with a native from Lorraine as soldiers from there with Swedish soldiers killed people in Alsace. So during 16 years she was considerate living in Switzerland It is what we can read on her father's testament, but her father and brothers always kept for Marie her portion of heritage. But what the Seufferlin family didn't know was that Claude and Marie lived in Munster.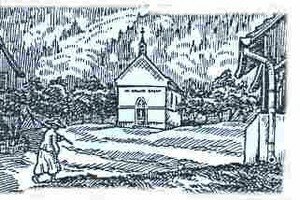 Their first baby was born around 1640 may be in Switzerland or in Munster and was called Hans Jacob. All the other children were born in Munster: Catherine on 1645, Jean-Thiébaud 1647, Marie 1651, Martin 1653 and Claude called 'le Benjamin' (youngest child) on 1658.
A few years later, Claude Arnold (the Germanic way of writing Arnoulx in Alsace) was told that his father in law, Barthélémy Seufferlin, was dead. As he was on friendly terms with Marie's brothers and with Hans Bobenrieth Mayor of Oderen, he decided to buy properties in Kruth and to go and live there in order that Marie may find again her dear family.
So, on April 1659, with carriage, servants, animals and Claude 'le Benjamin' in a 'Gratz' (basket) on his back all the family Arnold crossed mountains and valleys from Munster to Kruth during many days.
On June 1659, as he was recognized as a very serious person, he bought for 10 silver pieces the Title of Burgher of Kruth. He went and worked for the very important Abbey of Murbach. We also know he bought estates on Runstch above Kruth and then in the village.
Unfortunately, Catherine didn't go with her parents. We think she died very young. On the Testament of Claude and Marie we only read the names of Hans Jacob, Jean-Thiébaud, Marie and Claude. We know that Martin left Kruth and went to Gérardmer where he married and made his fortune.
Marie 'la Tisserande' died on September 1670, very ill and Claude 'le Marcaire' on 1671 the 8th of February. He gave his eider-down to his daughter Marie who nursed him so kindly. They were very young when they died, but they were very ill and so tired to have worked so hard.
Today, one of their descendants works for this memory never dies and tries to gather all the Cousins Arnold through the world: Germany, Switzerland, Belgium, Great Britain, Netherlands, Argentina, Africa, USA, Canada and France.
Madeleine ARNOLD TETARD - ASS.I.F.ARNOLD
All rights reserved.