He was our first family's genealogist and an authentic descendant of the ARNOLDS of GERBEVILLER-KRUTH.
His father was born in the house situated "Grande Rue" number 25 in KRUTH. He was a Non-Commissioned Officer in the olden Imperial Army, and married in 1889 with Pauline Kloor.
Richard had also a brother Otto married in 1920 with Hélène RAETSCH. He was a judge or a clerk in a town of Silesia.
Richard will be a Regimental Officer in German Army during the WW1. He lost an eye during an explosion in a provisioning factory in TROISDORF (Rhineland). Recently demobilized and pensioned he will be attached to the Sub-Prefecture of Sélestat. Then he will be a journalist, living with his mother, a widowed woman, in an apartment situated in the south of SCHILITIGHEIM near STRASBOURG.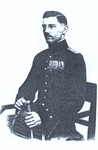 Richard Arnold
Around 1924-26, Richard feels an interest in genealogical researches and especially about our family ARNOLD. He goes to LUCERNE to the Record Office where are the Archives of the Abbey of MURBACH which owned since the 16th century the ones of LA HAUTE VALLEE DE LA THUR whose ODEREN and KRUTH.
His researches are successful. He also went many times to KRUTH and looked at very olden Archives with the help of the Mayor, an ARNOLD too, our Cousin Joseph Arnold's father from KRUTH.
Finally he discovered the deed where Claude ARNOLD requests the Title of Burgess. This deed reveals where Claude ARNOLD was born, item that nobody knew before! SCHERBEVILLE Duchy of Lorraine!!! So he goes to GERBEVILLER (the name is Gallicized in the deed of Burgess Request) and then he finds Claude ARNOULX's Birth Certificate.

Claude Arnoulx's birth certificate
Richard ARNOLD was a highly cultured man. He was fond of History and local History. He knew a lot of things about the Valley was interested in "onosmatique" (surnames), toponomy (localities) and was proud to be a child of this country and to bear the surname ARNOLD.
He will marry with Marie Angèle ELLES, a woman from SAVERNE around 1925 but they will divorce three or four years later. He will marry again with a woman from MUNICH in 1935 and will have two sons. One of his sons will be a professor in BADEN-BADEN and Richard will settle at proximity. And his genealogical researches will be a real job!
We are told that he would go back to ODEREN, "rue Gorth", during the WW2 and then went back to Germany where we lose his trail.
He was Jean-Thiébaud Arnold's descendant (ABC) by the way of:
Jean Jacques x 1708 with Véronique GRUNENWALD, then
Jean Thiébaud x with A.M TSCHEGELE, then
Jean Thiébaud x 1780 with Madeleine WINCKLER, then
Francis x 1813 with M.A HALLER, then
Pierre x 1846 Madeleine LUTTENBACHER
then Paul x 1889 with Pauline KLOOR.
We owe him all that lucky findings like the Claude ARNOLD's deed of Burgess Request or Baptism Certificate and we have to thank him.
He worked also with the help of Doctor Ottrfried NEUBECKER, Doctor of Heraldic, in the realization of our Blazon.
From a biography essay published in "Les Arnold de Kruth" Cl. Et D. Gewiss from Joseph Arnold's relation-1983-

click on the flag