I would like to tell the history of weaving in our Valley with the history of ARNOLD cousins and allied families gone to search for luck out of our Alsace. At first our American cousins, but also those who had gone around 1840 to REIMS, LILLE or NONANCOURT in Normandy.
Gilles SIFFERLIN, in his book about KRUTH, wrote in 1909: « in 1863 the cotton-shortage arrived and damaged machine-made weaving. This crisis has been going on for two years and following many workers has emigrated. Some of them went to REIMS, others for LIEPVRE Valley and others very far away: USA, Brazil, and Texas and also to NONANCOURT in NORMANDY ».
Abbé BEHRA wrote also in his book « KRUTH UND DAS OBERE THURTAL » that the population which was maximum in 1851, 2048 inhabitants, was 2000 inhabitants in 1863, 1940 in 1865 and continued to degrease during many years.
Among these emigrants went away in 1864, two families named ERNY and ARNOLD. Two of their children, Justine ERNY born in KRUTH on 1844 and Séverin ARNOLD born also in KRUTH on 1842 married in NONANCOURT.
They had five children whom Victor ARNOLD who died in 1916 in Somme whose name is engraved with others in the church and Albertine ARNOLD born in NONANCOURT on 1886 the 24th of May.
And we have not to forget Marie Eugénie ARNOLD born in 1882 on the 1st of May in St Lubin des Joncherets and died in 1942 in ST REMY SUR AVRE married with Emile GRUNENWALD also born in St Lubin and died in DREUX who are the ancestors of a new cousin Monique GRUNENWALD-DEGROUX who has just joined us.
Today Textile Industries which were so important for 50 years in NONANCOURT are shut or converted in an other way, but it remains many spinning-factories in the adjoining town St REMY SUR AVRE.
In the cemetery of NONANCOURT we can find several graves owning to families of the Valley of SAINT AMARIN: ARNOLD, GRUNENWALD that is not current in Normandy!
NONANCOURT is a very charming little town which is no far away from DREUX in the Department of Eure on the road between PARIS and RENNES.
Very Norman with its old half-timbered houses and a kind way of comforts of life, NONANCOURT rises in tiers in an undulating site along the side of the Avre a delightful river quieter than the Thur was in the olden days...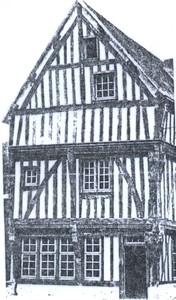 A half-timbered house in Nonancourt
Its church with a very odd bell-tower was reconstructed in the beginning of 16th century and is consecrated to ST MARTIN as the church of SAINT AMARIN is NONANCOURT knew as KRUTH, and quite at the same periods, war disasters, destructions, the Black Death and a decimated population.
We can establish many analogies between these towns…It is why our ancestors went to search for fortune…
Madeleine ARNOLD TETARD

click on the flag