Benedict ARNOLD, a strange figure.
Is he a descendant of our family? Was already an ARNOLD family living in USA before the very important migration during 19th century? History remembers some stories about him not always very fine but which must be told.
His story was during Independence War against the British when the American fought with the help of the French General LA FAYETTE.
After the invasion of Virginia, General Benedict ARNOLD was joined by the victor ... the Massachusetts hero because our Benedict has not always been bad as during the war as he fought with courage against the British... But why suddenly did he change in front of New-York for reasons which don't seem very clear? And he joined CORNWALLIS crossing Virginia and burning many towns as Richmond?
Why such a madness? The two men helped by General PHILIPPS, dispatched as reinforcements by CLINTON, had some 7000 soldiers and suddenly betrayed their country to the advantage of the British…
No of the troops, even the one commanded by General LA FAYETTE who was a very clever soldier arrived to be victorious of those two terrific men Benedict ARNOLD and his acolyte CORNWALLIS.
Is there anybody who knows this ARNOLD who was living in USA during the 18th century?
Officer and trader, he was born on January the 14th of 1741/1742 in Norwich, Connecticut, son of Benedict Arnold, trader, and Hannah King, born Waterman ; on February the 22nd of 1767, he married with Margaret Mansfield, from New Haven, Connecticut, and they had three sons, then on April the 8th of 1779, he married with Margaret (Peggy) Shippen, from Philadelphia, and they had four sons and one daughter; he died on June the 14th of 1801 in London.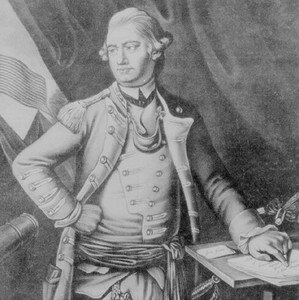 Benedict ARNOLD
Click on the picture in order to go on the site about him
AND ALSO:
http://fr.wikipedia.org/wiki/Benedict_Arnold

Click on the flag