From Sundgau to High-Alsace
Coming from Switzerland and Black Forest
The passing down of glassmakers names ….
Glass Art around the Abbey of LUCELLE, in Alsace, was known in 16th century.
In 1552, Brother Nicolas, Priest of LUCELLE (in FERRETTE canton), gave to André SPARR the right of way and pasturage to his goats on « GLASGRUND » and to build a house. In addition of the tithe for fruits and the delivery of a kid, for ten unborn kids, he promised to give one kid for Easter, one for Pentecost, and a billy goat on autumn.
An other lease was given in 1557 to « GLASGRUND » to Felippen of ROCKENBERCK.
Near this place, in Switzerland, were living since the 15th century, glassmakers in the transverse valley, between BALSTHAL and OENSINGEN in the North of SOLEURE and depending of the Seignory of FALKENSTEIN.
They were many and they had enacted since 1480 several rules of conduct in the corporation.
This job of glassmaker was a tradition passed down through generations, and after an apprenticeship of four years.
From 1570, in WELSCHENROHR in Switzerland, opened a glass factory, in the area of RÜSCHGRABEN in the south of GÄNZBRUNNEN where we find the first names that will pass down through generations by weddings in the same corporation.
We find in this glass factory the names of Simon and Urs HUG, Jean ROBISCHON, Jacques MEYER and later the one of Jacques ROBISCHON named in the concession for 20 years in 1636. They all were Catholic.
Unhappily, this glass factory closed on 1651 because the break-up of the authorities. Henri ENGEL, backer, got a compensation of 1000 Basel Pounds, which will help him to build a new glass factory in SOULTZ near of GUEBWILLER in Alsace in the place RIMBACH.
In 1642, was also in Alsace, an other glass factory in RAEDERSDORF in the area of FERRETTE on the road from LIGSDORF to FOLGENSBOURG in SUNDGAU, where we find in the registers hold by the Priory of LUPPACH: Jacques HUG husband of Elisabeth of OBERNDORF and Pierre HUG husband of Marie SCHMID.
In 1649, 50 trunks of fir trees have been allocated to glassmakers for the building of houses and barns to Urs HUG Glassmaker Master in NEUNEICH where the glass factory was named « GLASERBERG », a name that we find on the way from the pass between Fordere Birgmatte and Saint Pierre.
The glass factory will be moved in LIGSDORF around 1660.
Parish registers of this village show us new names of glassmakers as : Jean FRÖLIGER – Jean HUG married with Elisabeth SCHMID – Gaspard GRESLI (or GRESSEL – GRÄSSEL) – Pierre SCHMID spouse of Elisabeth MEYER and Jacques SCHMID, Urs MATHIS spouse of Elisabeth GRESLIN (who are my ancestors…) But also Georges FRÖLIGER and her wife SCHMID – Jean MEYER and his wife Anne HUG – Jean STUDER – Claude BURREY that we will find later in the glass factory of WILDENSTEIN and who went to LUCELLE in 1679, - Henri and Jean Jacques BURREY – Gaspard GRÄSSEL the young – Urs FRÖLINGER – Etienne, Henri and Geörg HUG then Michel GREINER who came from the Black Forest.
On August the 3rd of 1656, Priest of LUCELLE and of MAULBRONN, Bernard BUCHINGER, gave to Glassmakers Masters Victor, Urs, and Jodocus all brothers HUG and also to Jean FRÖLICH married with Madeleine HUG, to Gaspard GRESSEL married with Anne HUG and so on, a lease in order to build a glass factory on his country. The concession agreement was signed in LÖWENBOURG with a payment of 200 Basel Pounds. All the backers worked for the glass factory of RAEDERSDORF.
These HUG had created a glassmakers family since the beginning of 16th century in SOLEURE (WELSCHENROHR, GÄNZBRUNNEN, BALSTHAL) when GRÄSSEL family was from BAVARIA then went to BADE WURTEMBERG, also in Black Forest then in the North Alsace then went back to Switzerland from 1628. Jean FRÖLICH, glassmaker apprentice, came from the Forest of WANGENBOURG where he found a refuge during the War of Thirty Years with his Master Sébastien SCHMID.
On the 13th of May 1679, the glass factory of LUCELLE was built and we find glassmakers: Henri HUG, Jean Gaspard GRÄSSEL (GRESLI), Jean Jacques HUG, Jean FRÖLICHER, Jean Henri HUG, Henri FRÖLICHER, and one of the sons of Henri HUG. All that glassmakers came from FERRETTE belonging to Duke de Mazarin and the lease of concession was signed for 25 years by Henri HUG, Gaspard GRÄSSEL and Henri FRÖLICHER, this one and his family came back before the end of the agreement.
Then several glassmakers went and we find : Claude BURREY spouse of Marie ROBISCHON, who subscribed in 1692 to a lease in order to get a place to the furnace, and also Thomas SIGWART, Georges HUG, Samuel SCHMID who came from HANAWALD near of Saint Blasien in the Black Forest and who was married with Madeleine HUG (second wedding for her), and also Aldaric BURREY spouse of Vérona HUG, another Jean HUG, when François HUG spouse of Cunégonde RASPILLER from LOBSCHEZ, Urs GRÄSSEL and Thomas HUG joined them later.
In 1651, was built the first glass factory of SOULTZ-RIMBACH near GUEBWILLER. As Parish registers begin in 1600 we have discovered that from 1630, are celebrated baptisms to the glassmakers children coming from the canton of SOLEURE and living at GLASHUTE that means that before this first glass factory a GLASHUTTE was settled there where families ENGEL, MATHIS, PROBST and MEGLIN seem to be set up.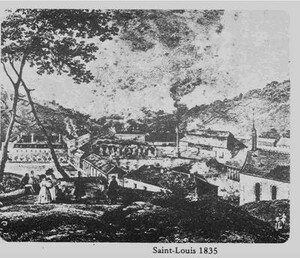 Glass factory of Saint-Louis 1835
It seems that when the glass factory of RÖSCHGRABEN WELSCHENROHR directed by Henri ENGEL closed, a glass factory built by several glassmakers from the North of SOLEURE, took many glassmakers to SOULTZ.
We find : Jean Jacques ENGEL spouse of Elisabeth HUG, Pierre ENGEL spouse of Brigitte MEYER, Henri ENGEL married with Agnès MEGLY who was the Head of the glass factory, Urs ENGEL married on September the 30th of 1652 in SOULTZ with Elisabeth MEISTER, Jodocus ENGEL came from SCHUPFHEIM in Entlebuch in Switzerland then, Victor ENGEL from WELSCHENROHR, Urs ENGEL married with Barbe MEYER, Jean Jacques ENGEL spouse of Eve STUDER, who were joined by Urs MATHIS spouse of Marie Elisabeth GRÄSSLIN, Simon MEGLY brother of Agnès MEGLY and brother in law of Henri ENGEL, Simon was married with Eve MUNSCH.
Between 1635 and 1757 several births were registered and also several weddings from 1651 concerning all couples before.
And that registers show that the young Simon ENGEL son of Jean Jacques ENGEL and Elisabeth HUG, born on June the 11th of 1657 died by a tragedy as he was killed by a wolf on June the 6th of 1669, he was their first child!
And coming from the canton of SOLEURE we find also Jean PROBST de MUMLISWILL, Urs BRUNNER from MATZENDORF spouse of Marie ENGEL and Gaspard SCHNEIDER from ERSWILL.
And a glassmaker from Italia joined them: Jean Baptiste CINGANO who came and worked in the glass factory of SOULTZ in 1770. But it is true that there were friendly relationships between the glass factory of SOULTZ and those from Italia. And it is the reason why this Italian could come and work as we know that only Swiss or German glassmakers were accepted.
We also find: Georges WALCH who came from the Diocese of SALZBOURG married with Agnès ENGEL, Jacques GRINNER who came from BARR in the canton of ZUY married with Jacobée GRILL from SURSEE, Jean Thiébaud MEGLY and Jean Martin GRINNER (KRIENNER) son of Michel and coming from Saint-Blasien and of Marie GRÄSSEL from LIGSDORF married on January the 13th of 1681 with Jacobéa ENGEL daughter of late Pierre ENGEL and living in SOULTZ.
In 1680 were arrived too, Jean Jacques and Jean Wolf MATHIS spouse of Anne Marie ENGEL who was with his brother Jean and his father Urs, the signatories in 1687 of a lease to the glass factory of RIBEAUVILLE with Georges BRETZNER spouse of Elisabeth MATHIS who just arrived in SOULTZ. Several children were born from all that couples.
We also find Thomas MEGLY, Jean Jacques MEYER, Henri SCHMID and Jean SIGWART, the BURREY family is also arrived in 1680 in SOULTZ (Blaise Jean and Urs BURREY = BORA).
Henri ENGEL was the Provost Marshal of the glass factory of SOULTZ from 1698 then it was Michel RAPP Provost Marshal in 1707, and then Jean WEIBEL in 1712.
On June the 22nd of 1670 was built a chapel dedicated to Saint-Antoine from Padoue, built under the management of Peter am Platz.
Two glass factories were built between 1651 and 1714. The grounds were cleared by the glassmakers and became two cheese factories as described in 1755 in a register of the village by a land surveyor named PETIN.
The last glassmakers were the WALCH – BRUNNER – ENGEL – RAPP – HUG – MEGLY who lived at KOHLRAIN and in 1714 had left the area. Some of ENGEL family stayed in SOULTZ as we find in the Parish registers some daughters and sons from this Family who married over that date in SOULTZ and we have the wedding of Georges Wilhelm ENGEL son of Georges with Cécile MEYER daughter of François MEYER from UNGERSHEIM on November the 12th of 1747 and the one of Anne Marie ENGEL sister of Georges Wilhelm who married on June the 10th of 1754 with Jacques ACKERMANN a widower from SOULTZ.
A glass factory in UFFHOLTZ built by the glassmakers of SOULTZ worked for 12 years. Abbey of MURBACH lent to the town a large forest but kept the right of hunting.
On December the 31st of 1712, the Mayor of UFFHOLTZ informed the Chancellery of the plant of the glassmakers giving them 80 thalers by year – the agreement was signed on March the 21st of 1714.
And we find:
Jean WEIBEL spouse of Barbe ENGEL and their son Jean named the young – Joseph WALCH spouse of Anne Marie ROBISCHON – Martin MEGLIN – Joseph SÄGER – and Martin GRINNER who got the agreement to settle at ERTZBACH down of Molkenrain no far away from the ruins of the Castle of HERRENFLUH.
Jean WEIBEL died on 1720 and his inventory shows that he had a little house and a place for the furnace for 122 Thalers about 274 Basel Pounds – The place for the furnace was given to Durs WEIBEL his eldest son.
This glass factory closed on June the 24th of 1726, WEIBEL Family settled in Franche-Comté when WALCH Family settled at WILDENSTEIN.
On March 1667 the glass factory of RIBEAUVILLE opened. It is Zacharie GRIENER born around 1644 (an ancestor of mine), who became in 1668 the Head. On his death certificate on February the 10th of 1710, it is said that he came from Saint-Blaise in Black Forest and that he was 66 years old. On 1668 Jacques GREINER got married, then on November 1669 Jean ANDRES who married with Marie SCHMID all coming from WANGENBOURG.
On November 1670 came the brothers François and Jean Baptiste CINGANO this one we met in SOULTZ.
In 1668 we are informed that one of FRÖLICHER and one of GREINER families are dead.
The lease of May the 30th of 1777 shows that the one signed on Mars the 22nd of 1672 where Jean Baptiste CINGANO gave his agreement for the half of places that the glassmakers had just given him.
But before that date, on August the 11th of 1674 records of RIBEAUVILLE noted several fights between glassmakers… A glassmaker of MARIENKIRCH (Sainte-Marie-aux-Mines) proxy of Jean Baptiste CINGANO, Master in the glass factory of EBERLINSMATT, was in VERDUN (where it seems that there was an other glass factory), had to remind to glassmakers ROUCHEMONT and Vincent BRUNLEN the contract they signed one year before where they agreed to work at the four places of the furnace belonging to CINGANO and to pay the royalties.
People concerned didn't want to work anymore with « German » as they didn't understand the language and were always insulted and they could not find any agreement with them. This explanation didn't satisfied the CINGANO proxy, who gave the advice to complain to the Chancellery!!
On August the 11th of 1674, ROUCHEMONT and Vincent BRUNLEN, complained and also insulted other glassmakers as Jean Jacques ROTH, (one of my ancestor), with pitchforks!! Happily a peddler who was crossing the area stopped the two men who wanted also fight with GREINER… But the two men were not wrong as the wife of Jean ROTH said to the one of ROUCHEMONT « Welsche Gucumer » (which means « stupid French"…) you can understand why the two Welsches were angry…
Other incidents were between glassmakers and lumberjacks. As they didn't get enough wood for the furnaces the glass factory had to stop for a moment the production in 1674.
Their cash flow statement was not good as lumberjacks stop to deliver logs because the glassmakers didn't pay the bill. On June 1674 glassmakers asked to the Seignory to get an extension for the payment, as their furnace was collapsed.
Jean Baptiste CINGANO died at the end of 1674. It is also the time when the Army of TURENNE was in ALSACE. The glass factory closed for some years.
Until 1687, when was signed the first lease, some names of glassmakers are : ANDRES, GREINER, ROTH this one coming from SOLEURE, SCHMIDT, GETSCHY, MATHIS, GRÄSSEL, WINTER, MOSER, BOTZ, HUG (notes of J.L. KLIENDIEST and André GANTER)
The concession of January the 1st of 1687 shows that it is signed by 8 people as:
Jean Georges FISCHER coming from SAVOIE spouse of Barbe MEYER born in the Diocese of Basel (AUSTHAL), Urs MATHIS and his sons Jean and Wolff MATHIS coming from the Black Forest but working also for a time in the glass factory of SOULTZ – Georges BRETZNER from SALZBOURG – Jean Daniel MËGLIN from SOULTZ – Jean Georges GREINER coming from the Black Forest and Jean Jacques ROTH from the canton of SOLEURE.
Among the glassmakers before 1700, we find with their spouses : Appolon and Joseph KOPP – Maurice GRÄSSLER – Jean Jacques, Christian, Jean Martin MATHIS, Jean Jacques UBERALL from FERRETTE, Gaspard, Jean Michel, Jean Georges, Jean Martin FISCHER, Zacharie SAMUEL, Adam GRIENER, Gaspard ENGEL, and Joseph ROTH..
The provost was Wolff MATHIS; he died on November the 24th of 1727 and was 72 years old so he was born around 1655. The lease was signed for 20 years from 1701 since the day of Saint-Martin for 200 Florins by year.
On January the 28th of 1704, glassmakers Jean Wolff MATHIS and Samuel GRINNER said that the wood was too far away and asked for moving the furnace at ADELSPACH ! They obtained the agreement.
During 15 years, glassmakers who worked with them are: Christian MATHIS from FERRETTE who died on November the 3rd of 1718 he was 51 years old and was a glassmaker from Ribeauvillé,(married with Barbara ROTH who died in the glass factory on March the 30th of 1712 she was 43 years old) Samuel, Antoine, Dors, Jacques, Jean Georges, Jean Wolff MATHIS who was the Provost, Jean Adam GREINER, Dors KELLER, Nicolas GEBURT, Nicolas GREINER, André and Jean ENTZMANN, Martin BRETZNER, Christian WEGSCHEIDER, Théodore and Jean HOELTZLE, Jean Conrad GRESLY, and André WEGSCHEIDER, all married with daughters of glassmakers.
In 1707, three glassmakers : Bartholomé BRETZNER with his brother in law Mathieu GRINNER and Jean Adam GRINNER left RIBEAUVILLE and found, with Michel SCHWERRER from WALTEMBOURG, Jacques BOURGON and Pierre STENGER from SOUCHT-MEISENTHAL, the glass factory of Plaine of WALSCH VALLERYSTAL which employed 1250 persons….
On December the 16th of 1722, Samuel GREINER's widow : Elisabeth Eve MATHIS and her children and Agnès BRETZNER the wife of Nicolas GEWURTH, André GREINER, Jean Georges and Martin BRETZNER and for Bartholomé their brother, (a glassmaker at Plaine of WALSCH dead at OBERSTEIGEN when he was going to this new glass factory), sold their stakes in the glass factory of ORDEREN REIMBACH (Big Glass Factory) with three places for the furnace and all the outbuildings, rights and houses, barns, cowsheds, fields, meadows, gardens and rights of pasturage to Casimir KROEBER Master of annuities of the BIRKENFELD House for 1200 Basel Pounds.
The widow Elisabeth-Eve MATHIS went on to live her house till Easter and kept the little bell which was on the roof and the right to take it down when she wants …
The glassmakers left RIBEAUVILLE for the one of HANG near of BOURG BRUCHE…but let us see how!
On September the 24th of 1723, Jean Wolff MATHIS a glassmaker and Provost let his stake to Durs MATHIS for 330 Florins at the day Saint-Georges 1724. Jean Wolff MATHIS was married with Barbe ENTZMANN and died before giving her all the information but asked to his sons Antoine and Samuel to be able to get his stake before 2 years and 14 days if they could. Durs MATHIS let also his stake to the Seigniory on June the 4th of 1727 for 560 Basel Pounds.
Among other heirs : Christian LORBER and his wife Anne MATHIS, Théodore HOELTZLE and his wife Anne Marie MATHIS, also Eve MATHIS and André ENTZMANN, all glassmakers, who sold on May the 16th of 1730 their parts of inheritance for 600 Basel Pounds, which paid the debts of the late and the glass factory closed on 1733.
Before going to HANG where an other glass factory opened on 1723, let us see from where were coming our glassmakers:
- Mathieu MEYER came from SALZBOURG
- Jacques HUBER from ROMOS in Switzerland
- Marie Catherine GRINNER from WURTEMBERG
- Jean Melchior KELLER from ENLINGEN near of RISACH
- Abraham ENGEL from RIGA
- Gaspard SIGLI from BONDORF in Black Forest
- Grégoire BÖGLY from Switzerland
- Mathieu BUCKLE from the glass factory of GRÜNWALD in Black Forest
- Jean ROTH from ARMSDORF in Switzerland
- Elisabeth SIGWART from SOLEURE
- Christian LOBER from Saint Blasien
- Thomas HUG from KIRZARTEN near of FRIBOURG
- Michel GRUBER from Tyrol
- Barbe MEYER from the Diocese of Basel
- André ENTZMANN from WEHSCHENROHR in Switzerland
- Joseph TRIMBACHER and André WEGSCHEIDER from BERCHTESGADEN in Tyrol
As you see they came from different places and they had different names that we meet now in ALSACE, they were big families of glassmakers and of cheese makers...
And now the story of HANG, a glass factory opened in 1723.
On December 1722, Nicolas GEWURTH, who became Provost of this factory till his death in 1726, was a glass cutter and the spouse of Agnès BRETZNER – He had sold his stakes of RIBEAUVILLE and was in this glass factory at BOURG BRUCHE at the same time of the widow of Samuel GRINNER who had just left her house: Elisabeth-Eve MATHIS who sold 3 places under her name and under the name of Agnès, Jean Georges, and Martin BRETZNER and André GRINNER who are all glassmakers.
They were all working in this glass factory down Climont (Wemberg) near of a little village on lands belonging to Jean Henri of ANTHES (1670-1733) Ironmaster, son of Philippe Michel of ANTHES Iron manager at BELFORT, the one who set up the Armaments Factory at KLINGENTHAL where MATHIS family of my husband worked and my MATHIS family worked at the glass factory.
Nicolas GEWURTH helped by his son in law Melchior SCHMIDT who came from RONCHAMP near of BELFORT began to work and had been joined by Christian GREINER, Pierre SPIES spouse of Madeleine DIES widow of Jean Georges BRETZNER, Jean ROHR (RÖHRLY) married with Anne Marie BRETZNER and Conrad WENCK.
Martin BRETZNER was the new Provost in 1726 at the death of Nicolas GEWURTH spouse of Elisabeth MATHIS. André GRIENNER married with Anne Barbe RASPILLER joined them between 1730 and 1750 and we find also the glassmakers Ursus (Urs or Dors) MATHIS married with Elisabeth SIGWART, who left RIBEAUVILLE in 1733, and who were the parents of Chrysosthome and Melchior MATHIS all glassmakers. And also, Victor, Melchior and Jean Georges BRETZNER, Jean Baptiste RASPILLER married with Elisabeth GRIENNER.
Chrysosthome MATHIS let his house in 1759 to his brother Melchior but kept the one of their parents when their father become widower and went back to RIBEAUVILLE.
This glass factory closed on 1771!
During that time, at WILDENSTEIN a little village hidden in the valley of THUR, and described by Baron of DIETRICH, before the Revolution, a new glass factory opened under the management of many glassmakers from Abbey of LUCELLE.
On November the 3rd of 1699, Jean Henri HUG met the priest of ODEREN: Jean Georges MEYER in Abbey of MURBACH, in order to agree about sacraments to give to glassmakers and their families and friends who will live in the glass factory. An agreement was signed for 10 years with a compensation of 15 Basel Pounds for his trips.
The deed for this glass factory was signed on July the 6th of 1700 agreement given by the Abbot Philippe EBERHARDT from MURBACH to glassmakers: Jean Henri HUG spouse of Anne Marie SCHMIDT for 4 places, François HUG spouse of Cunégonde RASPILLER for 2 places, Jean Jacques HUG spouse of Anne Marie SCHMIDT for 2 places.
That last glassmakers came from LIGSDORF but their occupation was registered in the registers of Abbey of LUCELLE as for Claude BURREY spouse of Marie ROBISCHON.
We find also: Georges HUG spouse of Marguerite RINGLER, Blaise BURREY spouse of Marie HUG, and Provost Samuel HUG from 1714 to 1734 married with Marie Madeleine RAPP.
WILDENSTEIN in the old days...
Then others joined them: Urs ROBISCHON son of Gaspard, who came from LUCELLE , spouse of Anne Marie HUG and their 3 sons : Samuel, Nicolas and Antoine ROBISCHON became at WILDENSTEIN: REBISCHUNG, as Jean Michel REBISCHUNG spouse of Catherine LUTHRINGER who had 2 sons Jean Gaspard and Jean Michel lineage of the writer François Antoine REBISCHUNG (1847-1923)[*]
In the Parish Registers of ODEREN, where there was the only church for all the villages around, we find 16 families HUG, 9 at BURREY's and names which became very numerous in the Valley as: SCHMIDT – WALCH – ROBISCHUNG – UBERALL – FISCHER – GREINER – BRUNNER – FRÖLIGER – MULLER – HAUER – HEITZMANN – VOGT all glassmakers or lumberjacks, – foundry workers for glass – glass apprentices – glass peddlers… and so on.
KIENTZY, were very numerous and are always now. We find them on 1758 with François Joseph KIENTZY son of Jérôme spouse of Anne Marie SCHMIDT (one more) daughter of Michel SCHMIDT and Elisabeth BURREY...
The glass factory had to be demolished between 1885 and 1887.
WILDENSTEIN became a little « République » with a Mayor. It became a big village on 1796 with in additional Bramont, Felsen (it was in old time a tenanted farm) Brücklé, Rotenbach (a pass between the valleys of Munster and La Bresse), Obergerstenbach, Neuroth, Kleinrunz, Hasenloch, Holzhauermatten, that we find in the registers on 18th century.
Among all its Mayors we have to remember Zéphirin KIENTZY (Mayor from 1835-1884) born in 1808 and dead in 1884 at WILDENSTEIN, instigator of the artificial increase of fishes made by Rémy and Géhin from la Bresse around 1860 at WILDENSTEIN…, but also Manager of the Glass Factory and of Textile Factories. He was a Member of the Council of the Department and a local schools inspector in the canton.
Madeleine Arnold Tétard
Sources: PR Soultz Guebwiller noting down André Ganter 1978 – Noting down BEHRA Wildenstein – Extract from « Glassmakers from:
« Glass Factories from FERRETTE » A Season in Alsace from 16th to 20th century Editions La Nuée bleue –Personal pictures (personal collection) – Story of Wildenstein Baquol Personal collection – Most of that families are in my lineage from the mother side of my father.
[*]- F.A. Rebischung (°Wildenstein 28.6.1847 + Husseren Wesserling 10.3.1923) was the Manager of the industrial school of Wesserling from 1873 to 1911. He was also a writer and published many narratives about his trips and also some studies about old jobs in Vosges « the lumberjack of the old mountain» - « the coalman of Vosges » « the memories of a guide of 80 years old» and many others.
Published by me in "Splinters of Glass" a Bulletin of the Glassmakers Association of East of France n°6 – 2006 -
Many Associations, friends of glassmakers in Alsace are: Friends of Glassmakers from WILDENSTEIN Bulletin S'GLASERBLÄTTLE and also GENVERRE Genealogy of Glassmakers from Europein Sarrebourg Bulletin: ECLATS DE VERRE (Splinters of Glass).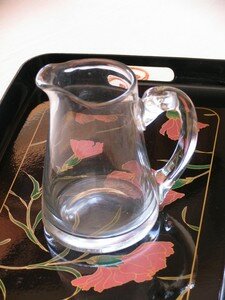 To be noted: Musée Serret of Saint Amarin keeps many glasses from the Glass Factory of WILDENSTEIN.

click on the flag