The ASSOCIATION INTERNATIONALE DES FAMILLES ARNOLD ET ALLIEES (Association Loi 1901) is a Family Association set up par Madeleine ARNOLD TETARD Chairman.
This blog has been created by Madeleine ARNOLD TETARD in order to have a link with all the descendants from Claude ARNOLD and his wife Marie SIFFERLIN living during 17th century in ALSACE.
It has been decided to translate the main articles in English as we have many cousins living in USA or Great Britain or foreign countries where French is not spoken.
Please be indulgent with me as I am not a translator and I may write grammatical or vocabulary mistakes. I just hope you will be pleased to discover articles about our ancestors.
Good reading,
Catherine TOMAT MURA (Association Secretary).
ASSIFARNOLD
Are sitting down : Paul LUTTENBACHER - Madeleine ARNOLD TETARD -
Standing from left to right : Catherine MURA TOMAT - Michel ARNOLD - Isabelle Mary ARNOLD - Théo ARNOLD - Véronique MURA - Christian TETARD - Jean Jacques RISSER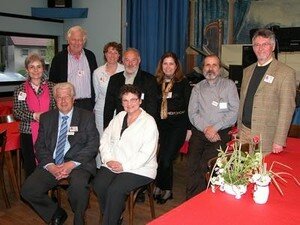 click on the flag